Mortar Board Merit Scholarship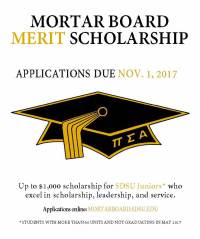 The 2017 Mortar Board Merit Scholarship recipient has been announced. Thank you to all the students that applied.
Mortar Board Senior Honor Society is very excited to announce our fourth year offering a scholarship opportunity for highly qualified applicants! It is the Mortar Board Merit Scholarship with an award value of up to $1,000 for the 2018-2019 school year!
Minimum Requirements:
Must have at least 60 units, but not graduating in December 2017 or May 2018

Enrolled as a full-time student (12 units or more) and will still be enrolled as an undergraduate student in Fall 2018 as a full-time student

GPA of 3.5 or higher
If you meet these minimum requirements, you are strongly encouraged to apply. Scholarship applications are available now and will be due November 1, 2017. Students graduating in Spring/Summer of 2018 are not eligible to apply.
Questions? Contact [email protected].